Author of the novel The Trumpet Lesson and the textbook Thinking Things Through, Dianne Romain writes, teaches, and dances in Guanajuato, Mexico, the site of her novel.
ABOUT DIANNE ROMAIN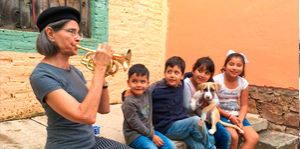 Dianne Romain, philosophy professor turned fiction writer, lives with writer Sterling Bennett in the house she designed in Guanajuato, a colonial city smack in the center of Mexico.
To get to know her novel's trumpet-playing characters, she took up the trumpet herself.
THE TRUMPET LESSON

A novel by Dianne Romain.
Fascinated by a trumpeter playing "The Lost Child" in Guanajuato's central plaza, Callie Quinn asks for a trumpet lesson and ends up unleashing a longing to know her own lost child.
READING OUT LOUD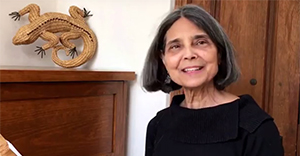 Dianne has been reading aloud since, when still a child herself, she read to her younger siblings.
Now she enjoys bringing her own characters to life at public readings.