Upcoming Events
Note: Links on this page open in a new tab.
2020
January 17, 2019, Book Club Gathering, St. Louis, MO. (By invitation only)
Sunday, January 19, 2020, Chat with Dianne Romain about The Trumpet Lesson: A Novel,
Place: Four-Eyed Frog Books, Gualala, CA
Time: 3 to 4 p.m.
January 25, 2020, Double Book Launch of Fiction Set in Mexico
With Wine Country Brass
Dianne Romain's The Trumpet Lesson and Sterling Bennett's Tales of Mexico and Other Places in the Mind
Time: 7:30 to 9:30 p.m.
Place: Sebastopol Center for the Arts
(Rescheduled from Fall, 2019 event that had to be cancelled due to fires. Dianne and Sterling will now present together!)
Events in Mexico to be announced.
2019
December 31, "Sound and Setting in The Trumpet Lesson," Vero Beach, FL (By invitation only)
November 10, 1 PM, "Three She Writes Press Authors: Ilene English, Lisa Braver Moss, and Dianne Romain," Book Passage, Corte Madera, CA
November 9, 2 to 3PM, "Nurturing a Novel: The Trumpet Lesson from Conception to the Wide, Wide World," Mountain View Public Library, Mountain View, CA
November 7, 6:00 PM, "Sound and Setting in The Trumpet Lesson," Collected Works Bookstore and Coffeehouse, Santa Fe, NM
November 1, 7:30 to 9:30 PM, "Sonoma County Launch of The Trumpet Lesson with Wine Country Brass," Sebastopol Center for the Arts, Sebastopol, CA (cancelled, due to fires)
October 26, tea time, "Introducing The Trumpet Lesson," Book Club Gathering, Portland, OR (By invitation only)
October 19, 4 to 6 PM, "Nurturing a Novel: The Trumpet Lesson from Conception to the Wide, Wide World," The Sitting Room: A Community Library, Penngrove, CA
October 13, 4PM to 6PM, The Trumpet Lesson launch party with jazz trumpet and piano duo Stanton Kessler and Roger Wilder, Donor Lounge, Performing Arts Center, University of Missouri at Kansas City, Kansas City, MO
October 9, early evening, "Writing/Doing What Matters," Honors College, UMKC, Kansas City, MO. (By invitation only)
October 5, 10 AM to noon, "Two Writers in Conversation: Dianne Romain and Repps Hudson," Carrollton Public Library, Carrollton, MO
October 3 or 7, Classroom visits, Carrollton High School, Carrollton, MO (By invitation only)
October 2, 7 PM, "Introducing The Trumpet Lesson," Book Club Gathering, Carrollton Public Library, Carrollton, MO (By invitation only)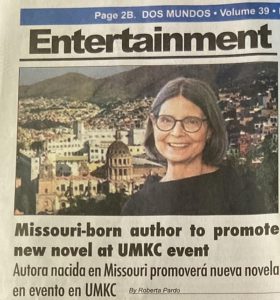 Dianne Romain, a native Missourian, is back in Kansas City to promote her new book, "The Trumpet Lesson."  Read the Article>>
"Big Blend Radio: Author Dianne Romain—The Trumpet Lesson," 9/23/19